Shakers
Skorchtek has partnered with IMV America, Inc. to provide a reliable solution for air and water cooled electro-dynamic shakers. IMV America offers superior, quality vibration test systems with advanced technology for the most demanding environments and applications. IMV America has developed shakers for battery systems, automotive testing, aerospace, Buzz Squeak and Rattle, multi-axis testing, and many more all with their patented ECO design for automated control of the energy consumption based on your test levels. Contact us to discuss your requirements today.
---
Controllers
Skorchtetek works with the latest control hardware from a variety of manufacturers. Our experience can help choose the best solution for your application whether you need 2 channels or 200.
---
Accelerometers and Signal Conditioners and Filters

Kemo Ltd has been a global leader in the innovation, design and manufacture of electronic filters and signal conditioning instruments since 1965, during this time it has developed a reputation for the highest quality and accuracy. Over the last 56 years our range has expanded into a broader range of signal conditioning solutions for IEPE, Charge, PRT and other types of signal conditioning and amplification. In more recent times we have also introduced a wide range of low noise cables, instrumentation cables, connectors, joiners and sensor mounting accessories.
Our most recent product addition is a range of general purpose IEPE impact hammers and handheld accelerometer calibrator.
We continue to innovate and explore new opportunities to introduce new and improved products for the benefit of all our customers. https://kemo-usa.com/
---
Chambers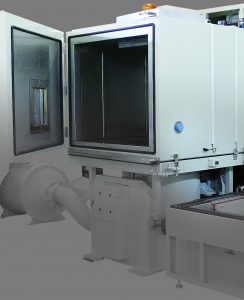 Skorchtek works with IMV America, Inc. for combined temperature, humidity, and vibration tests. The single source solution carries benefits that include a pop-in design for mating the shaker and chamber. This automation saves valuable test time and fast performance. The built-in shaker and armature insulation do away with the requirement to add a G10 or similar material to all your test setups, reducing weight as well as time. You can see the IMV Combined Environmental Testing at the link.
---
Lab Equipment
Skorchtek works with many different suppliers for laboratory equipment in the test and measurement world. We can assist in finding the right product for your application with data acquisition, environmental testing, sensors, and more. Contact us today to discuss your requirements.